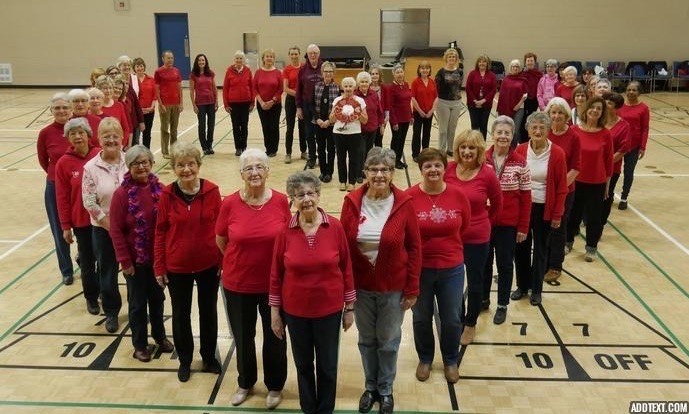 Newcomers are always welcome!
Line Dancing gives you the opportunity to exercise, meet new friends, and all the while enjoy good music.  If that isn't reason enough, here's what one website has to say about line dancing:  It may improve Heart Health, increase Aerobic Power, improve Bone Strength (bone-mineral content), increase Balance & Flexibility (reduce fall risk), and increase Muscle Mass (reduce pain & discomfort).
Contact:
Phyllis (519-836-9415) or Donna (519-831-0943), or
 email us at the Program Group Page
Monday
9:15 to 9:30 a.m.
Line Dance Step Tutorial
[

Learn and practise harder steps not taught in the Intro class

]
Monday
9:30 to 10:30 a.m.

Beyond the Basics Line Dancing

 

[

Next step up from the Introduction to Line Dancing

]
Monday
10:45 to 11:45 a.m.
Intermediate Line Dancing
[Are you up for a challenge?]
Thursday
1:00 to 2:00 p.m.
Introduction to Line Dancing
[

Learn basic steps to easy slower music

]
Thursday
2:15 to 3:15 p.m.

Beyond the Basics

 

[

Next step up from the Introduction to Line Dancing

]
The first three classes are free. After that, in addition to having a GWSA membership, the cost is $2.00 each time you come.
Although our instructors call the steps throughout each dance, the biggest hurdle for beginners is learning the steps.  Once you master the basic steps, line dancing becomes more fun and you can relax and start to enjoy the music.  If you are new to line dancing and would like the opportunity to learn basic line dance steps, or if you are a seasoned line dancer and would like a refresher course, we are excited to let you know that one of our instructors, along with the GWSA tech staff, has created a video of basic line dance steps.
If you would like us to send you a link to this video so that you can practise the steps at home, please click on the heading 'Contact Us', click on 'Program Groups' and scroll down to the 'Please select' box and select Line Dancing. Just put a note in your email that you want a link to the Basic Steps Video and we will send that off to you.