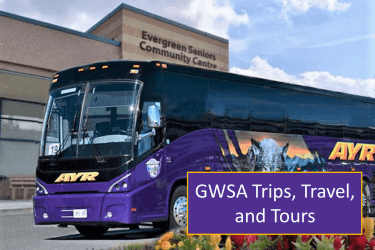 Watch this Page for the Latest from GWSA Trips, Travel, and Tours!
Click links located to right of each trip for all the details.
Register through the Evergreen Centre or through RecEnroll online!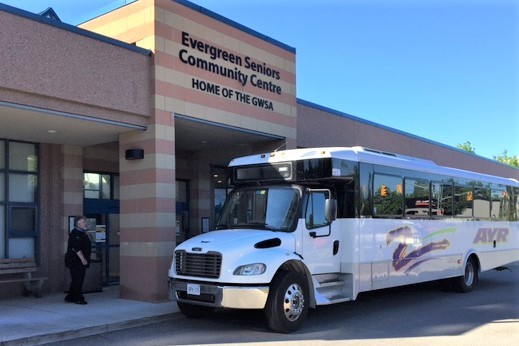 Requirements for Trips
1. Participants need to be GWSA members (renew ahead if necessary).
2. Bring a well-fitted quality face mask and wear it in settings where it is required.
3. Bring your completed Emergency Contact List and keep it with you on the trip.
Emergency Contact List (Word fillable)
Masks (effective June 11, 2022):
Provincial mandates have been lifted for most public settings.
Masks are

still recommended

for public transit and health-care facilities.
Individual organizations and businesses continue to have authority to keep requirements in place.
You should also continue to wear a tight-fitting well-constructed mask if you feel it is right for you; if you are at high risk for severe illness; if you recovering from or have symptoms of COVID-19, or are a close contact with someone who has COVID-19.
It was a great day.  Joanne and Wendi are a great team.  Future excursion suggestions are Aquarian, Support overnight trips, Dinner Theatres. -LDA
An enjoyable day out.  Clean comfortable transport – good driver.  The information booklet well done and useful. -Marion and John
Nice to get out again!  Enjoyed playing bingo to pass the time on the trip up.  A trip to Walters Theatre would be nice; Niagara and Wine Tour seeing that we don't have to drive. -Sandi
It was a great trip.  Bravo to Joanne and Wendi and the bus driver Laurie.  I recommend future trips to any new members.  -Michael
It was well organized, and directions were clear. The driver was excellent and was considerate to her passengers.  I look forward to future trips if they are as good as this one. – Cyril
GRAVENHURST, quiet, lake front. Albion Gallery was worth seeing.  A day out was worth it after a long time stuck in the house.  Thanks. -Agnes
A very relaxing trip.  Sit back and enjoy the ride.  Thanks.  -Trish
My trip to Gravenhurst was very enjoyable.  All went well, very timely.  I look forward to future trips.  Niagara Falls at Christmas sounds good. -Maureen
Enjoyed getting out meeting new, interesting people. Always kind, courteous and informative.  Even bingo game with prizes was a delight.  A good group to travel with for sure. -R. Chalk
I really enjoyed getting out for an excursion and I wouldn't drive this far on my own.  Would come back again especially if a boat outing and lunch was included.  -Betty
I found it very enjoyable and entertaining.  Our supers were fun and organized. -Flo
The day was relaxing.  Nice place for lunch at "Dock of The Bay".  Possible Niagara-On-The-Lake and a Winery Tour would be nice.  Overall a nice day. -R.
I found this trip a perfect amount of time at the farmer's market and wharf and then a correct amount of time downtown as well.  Other seniors on the bus were friendly.  So nice to get out after COVID!! -Brenda
Great driver, Great hostesses, Great market, Great City of Gravenhurst. You certainly know how to spoil us.  Thank you!! -Mavis
Joanne – I enjoyed getting together with friends I hadn't seen for (seems forever). It was great around the wharf.  Looking forward to more trips with you.  -Hazel
Once again, really enjoyed our bus trip.  Nice to visit places I never have been.  Great organization in looking after our needs.  Thank you, Joanne.  Will look forward to more trips. -Jan
Wonderful day out.  So glad the trips are back.  Just enough to see and do.  Love being able to venture off on our own.  Thank you. -Karen