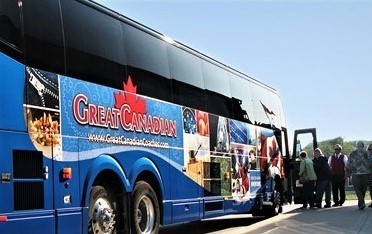 Wednesday, September 8, 2021.
A Day in Gravenhurst.  

Total Cost:  Members $56 (NON-REFUNDABLE**)     
Code:  00020270
Join us as we spend a relaxing day in Gravenhurst.  We will start our visit by dropping off at the Muskoka Wharf.  There you will be able to have lunch or an ice cream at one of the many restaurants (not included), visit the Farmers' Market, walk the boardwalk, or possibly book a one hour cruise (not included). In the afternoon we will venture downtown where there are many shops to explore or have a coffee at one of the many restaurants.
A booklet with maps and points of interest will be provided.
Driver gratuity is included in the cost.
This trip requires walking throughout the day.
The coach will be sanitized and sold up to full capacity.
Masks will be required for all participants.
Leave:   Evergreen Parking Lot:  8:00 a.m.   Carousel:   8:10 a.m.
Return:  6:30 p.m.
You must arrive by 7:45 a.m. and bring your completed COVID-19 Screening Form and Contact List.  These documents are available for download at the bottom of this page.
There will not be assigned seating on this trip.  Seating will be available on a first come first serve basis.
** This trip is NON-REFUNDABLE. Doctor's certificates will not be accepted.  You will not receive a refund if you are denied bus entrance due to a positive COVID-19 screening, and/or have not signed the COVID-19 Liability Waiver and submitted Proof of COVID-19 Vaccination.  Should there be a mandatory province shutdown due to COVID-19 all participants will receive a full refund to their method of payment.
EACH PARTICIPANT WILL BE REQUIRED TO:
PROVIDE PROOF OF COVID-19 VACCINATION (2 DOSES)  
COMPLETE THE GWSA COVID-19 LIABILITY WAIVER 
BRING THEIR COMPLETED COVID-19 SCREENING FORM AND CONTACT LIST WITH THEM ON THE DAY OF DEPARTURE 
IF ONE OR BOTH DOSES OF THE COVID-19 VACCINATION WAS RECEIVED OUTSIDE OF ONTARIO YOU MUST COMPLETE THE OUT-OF-PROVINCE VACCINE FORM AT WDG PUBLIC HEATH (LINK BELOW).  AFTER THE OUT-OF-PROVINCE VACCINATION IS VERIFIED A VACCINATION RECEIPT CAN BE PRINTED FROM ONTARIO HEALTH WEBSITE. LINKS ARE PROVIDED AT BOTTOM OF PAGE. 
AN EMAIL WILL BE SENT TO EACH PARTICIPANT AFTER TRIP BOOKING IS CLOSED ON AUGUST 18, 2021.  THE EMAIL WILL CONTAIN THE GWSA COVID-19 LIABILITY WAIVER TO BE ELECTRONICALLY SIGNED WITH INSTRUCTIONS HOW TO UPLOAD PROOF OF VACCINATION. IF EMAIL IS NOT ACCESSIBLE, EACH PARTICIPANT MUST CONTACT JOANNE WHITE AT (519) 400-2541 ON OR BEFORE AUGUST 18, 2021.  YOU WILL NOT BE PERMITTED TO BOARD THE BUS IF BOTH DOCUMENTS ARE NOT ON FILE.  THANK YOU FOR YOUR COOPERATION.
THE COVID-19 SCREENING FORM AND CONTACT LIST ARE AVAILABLE AT BOTTOM OF THIS PAGE.
How to Register Online
You can register for the trips online by using the City of Guelph system: RecEnroll
Log into your RecEnroll account; click on Programs, then under Seniors, click General Interest.
Under Lifestyle, click Show Courses.
Here, a little further down the page, you will find our current Trips. Click Enroll and follow through in order to secure your spot for these trips.
PLEASE make your choices and register from Wednesday, August 4, 2021 until the trip is fully booked, or booking will be closed on Wednesday, August 18.
Then, you're good to go!
How to Register By Telephone
Wednesday, August 4, 2021 from 9 a.m. to 3 p.m. by contacting Customer Service at the Evergreen Seniors Center at 519-823-1291.
MasterCard, Visa, Amex or Visa Debit can be accepted for online or telephone booking.
 If you have any questions, please call:
Joanne White at 519-400-2541 or Wendi Hake at 519-803-8689
To Print Your Ontario Vaccination Receipt
This reaches the online portal where you can verify your identity and download a copy of your vaccine receipt. To access this service, you must have a green photo health (OHIP) card. You need to check that you have read and accepted their terms of use to get to the form request.
What if I still have an old white/red non-photo ID health card? 
The online portal is not available to people with outdated health cards. You must call the provincial vaccine booking line at 1-833-943-3900.
To Submit Out-of-Province Vaccination Information
Submit Out-of-Province Vaccination Information
This lets you send your out-of-province vaccination documents to WDG Public Health, so they can update your Ontario vaccination record. It may take  a few days for it to be reflected on your Ontario Vaccination Receipt