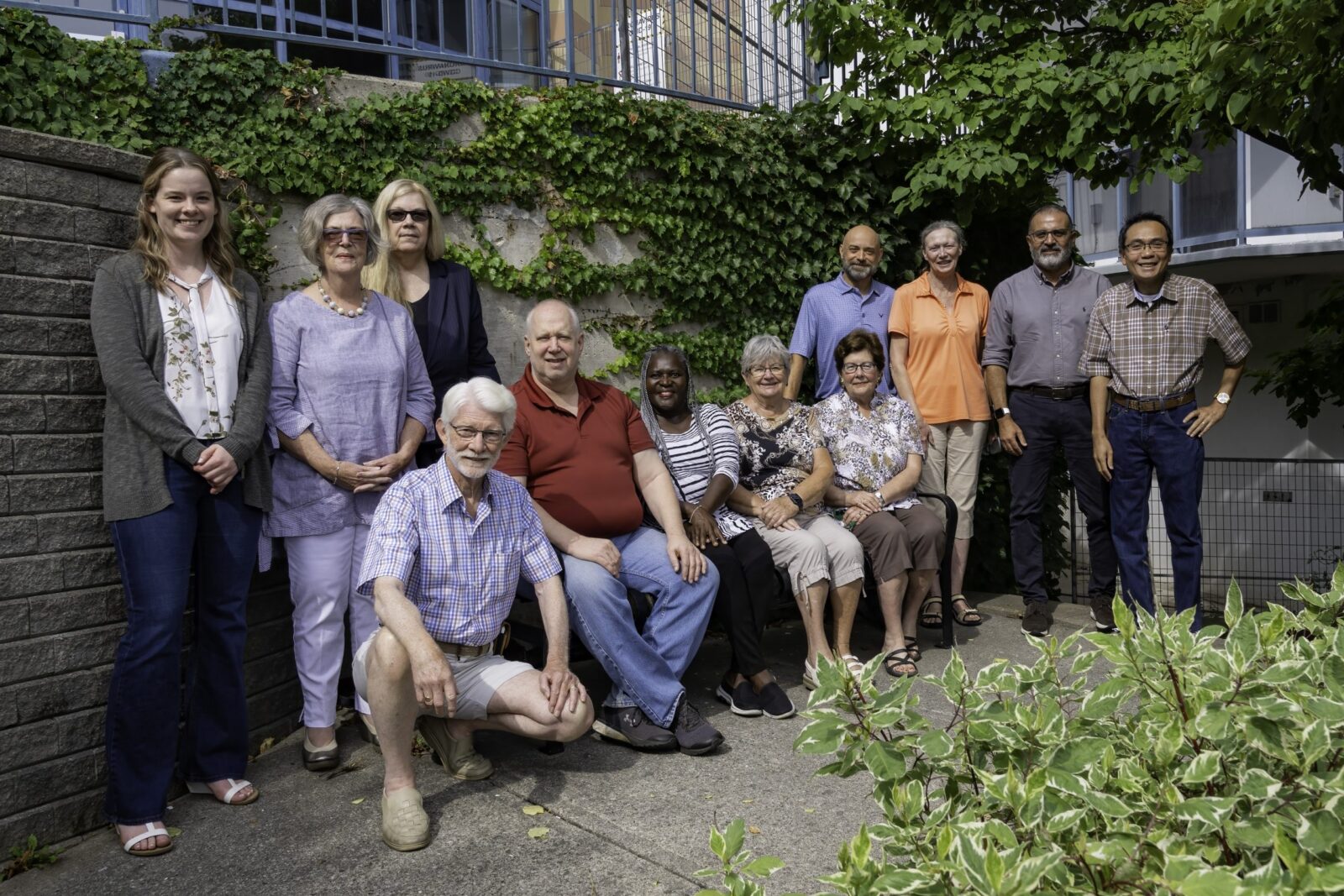 The GWSA is entrusted to its Board of Directors, elected each year at the Annual General Meeting which usually takes place in June.
Please use the Contact Us page for general inquiries. If you prefer to contact an individual Board Director, you may use the Contact Form at end of this page.
2022-2023 GWSA BOARD OF DIRECTORS
Charlie Bishop was appointed to the Board in 2021 and was elected by the members in June, 2022. He is looking ahead for retirement where he can engage in the community doing something he enjoys. His previous experiences include: design and development for global, world class high tech companies such as Nortel and BlackBerry, Chairman and Executive Director on an international Board of Directors for a wireless consortium which brought not only technology aspects but HR, multiple years of IT support/implementation, finance and business.   Charlie has extensive background in technology and is looking to apply that background for GWSA and its members.  He is looking to meet more people, and give back to his community while having fun and making a difference. Charlie is a forward thinker, seeing the bigger picture. His motivation is seeing opportunities to do things. If he sees something that isn't working, able to create ways to move forward and change what needs to be done.
Ken Fugler has been an active member of GWSA for several years. He was elected as President of the Evergreen Canoe Club at its inception in 2009 and currently chairs the Membership and Marketing Committee. Ken is a Graduate of Ryerson in Aeronautical Engineering and was an Officer in the RCAF military. His career was in project management and sales of custom manufactured machinery, where he gained experience dealing with complicated legal quote requests and purchases. Ken was elected to the Board in May 2019. Recently, he began leading the Guelph Carving Club which joined the GWSA.

Pat Gage came to the Board with a background in administration and human resources.  She worked at Trent University for over 20 years, Gage Health Systems and you know her best for her time at the Evergreen Seniors Centre as the administrative assistant for Community Support Services until retirement in December, 2019. She has sat on the board for the Guelph Curling Club, Treasurer for the Board of the Volunteer Association of Guelph General Hospital and presently as GWSA Board member and Chair of the Program Committee. She is also a crafter.  She belongs to the Royal City Quilt Guild, the GWSA Quilt Group and Into Focus Photography Group.  She is an avid quilter, knitter and enjoys her little garden. As Covid restrictions are loosened she looks forward to working with the Board, Activity Group Leaders and members of the GWSA community to help build a strong, inviting environment for all seniors.
Donna Keating.  After 36 years of public service with the Ministry of the Solicitor General (present title), Donna retired from the Ontario Government. She was the Superintendent of a number of Ontario Correctional Institutions, often being the first female in the roles she was promoted into. She was the first Ontario Correctional Services employee to be awarded the prestigious Ontario Women in Law Enforcement Community Service Volunteer Award. Donna has been volunteering most of her life, from her teenage years, visiting hospital patients at the former Groves Memorial Hospital in Fergus, Ontario to visiting the elderly in their present home as part of her church program in Elora, Ontario. Donna is presently a Volunteer, (Past Club President, Past Governor of Eastern Canada Region) with the Soroptimist International of Guelph and has been for the past 19 years (Soroptimist is an International organization that works to improve the lives of women and girls through programs leading to social and economic empowerment). She also provides winter hats/mitts to released offenders at the Central East Correctional Centre as part of the 7th Step Society (that helps offenders and ex- offenders positively change their behaviour/ attitudes). Donna believes in the importance of learning and supporting diversity. A measurable example of this was her 5 years spent on a Ministry Committee called PASAC –the Provincial Aboriginal Services Advisory Council. Later in her career, she was presented a Feather (an honour) by an Aboriginal Elder for her supporting efforts.  Donna lives in Guelph and is a present GWSA member.
Wenda King was elected to the GWSA Board of Directors at the 2020 AGM. A resident of Guelph for 60 years, she started her career with London Life Insurance and retired in 2006.  Upon retiring, Wenda worked with two financial advisors to assist them in opening up an office in Guelph which she managed from 2007-2019. Wenda has been involved in finances with the LaSertoma Club in Kitchener, the Volunteer Association at Guelph General Hospital, and the Endowment Committee as a Trustee at Knox Presbyterian Church. She really enjoys quality time with her family, as well as with friends and meeting new people.  As hobbies, she loves to travel, read, knit and canning our wonderful Canadian summer produce for winter use.
Sam Marzouk. Sam is an internationally trained physician, practiced family medicine and anaesthesia for 10 years then went into medical research, medical communication, and pharmaceutical product management.  During his 33 years of working experience, he had the opportunity to live and work in 6 different countries and 3 different continents. This lived experience of different cultures developed and shaped his personality, skills, and knowledge.  Having to start from scratch and change how he did things many times made him resilient and accommodating at the same time. Sam currently holds the position of Director of Operations and Finance at the Guelph Family Health Team, along with being the privacy officer, health and safety officer and Board director. In his role he supports their 90 physicians and 104 clinicians across 25 locations to provide quality care for over 125,000 Guelph residents, He also manages the Guelph FHT budget and all associated programs. He was a board member with KW-Senior day program, KW settling steering group (newcomers) and guest speaker with life science program at University of Toronto. Sam became involved with GWSA Board and Staff, starting in 2012, when they integrated the Diabetes care team, cooking classes and food tasting events into the GWSA environment. They also collaborated with GWSA on the Eat-well program.  Sam Marzouk holds a Bachelor degree of Medicine (Alexandria University-Egypt), Master Business Administration (Hull University- UK), Diploma in Canadian Biotechnology enterprise (U of T- Canada) and certificate in Health Quality and Leadership (IHI-USA). Besides work, Sam likes to travel (visited over 40 countries worldwide), is a soccer fan and still playing, likes to read, and is a big Raptors FAN.
Sam Montoya.  Sam Montoya is an internationally trained human resources management professional and practitioner. After coming to Canada in 2007, he started working in 2008 in a community based organization with newcomer immigrants in Toronto as an Employment Counsellor for almost 10 years.  Sam became a board director of the North Victory Baptist Church in Toronto from 2013 until he moved in Guelph in late 2019. He chaired the finance ministry of the church, became board secretary twice, Chairman of the Deacons of the church, and at the same time did volunteer work as Sunday school teacher for adults and youth class. He is the former Vice President of Public Relations for Toastmasters International.  Currently he does volunteer also at Guelph-Wellington Immigrant Services. Sam Montoya expressed interest in this organization to learn more about the area communities and the City of Guelph as he becomes a permanent resident of this vibrant city, and at the same time can contribute or give back to the community the skills and abilities he may have. As an active member of Guelph Baptist Mission, Sam continues to volunteer as a Sunday school teacher for adult class, and a member of some of the church's standing committees. He presently works at Polycon Industries (since moving to Guelph in 2019) at the manufacturing division.
Janice Robertson was appointed to the Board of Directors in November, 2021 and elected by members in June, 2022.  Janice is a lifelong resident of Guelph, attended John F. Ross C.V.I., is a graduate of the University of Guelph and Hamilton Teachers College, and brings skills and experience from over thirty years in teaching. She has been a GWSA member since 2007, and has done volunteer work with Action Read, Children and Family Services. Janice has served on her condominium board, including a recent role as president. She is enjoying retirement with her husband, Dave, children, and grandchildren. Golfing, hiking, and travelling keep them active.
Elizabeth Steggles is a retired occupational therapist with a clinical background in accessibility and assistive technology. At the time of her retirement in 2015, she was Director of Standards for the Canadian Association of Occupational Therapists and held a part time faculty position at McMaster University where she had previously worked as a research manager in the Faculty of Health Sciences. Elizabeth has lived in Guelph since 1989 and feels it is important to contribute to the wellbeing of her community. She has engaged in many volunteer activities, most recently serving as Chair of the Board of the Guelph Symphony Orchestra. She is also a member of Guelph Wellington Master Gardeners which provides gardening information to the public. Elizabeth is currently Chair of the Retired Members' Team of the Ontario Society of Occupational Therapists.  One of the Team's goals is to encourage the development of Age-Friendly Communities that strive to ensure seniors live safely, enjoy good health and stay involved. Elizabeth recognizes that the GWSA has a strong role in supporting this ideology and would be honoured to serve on the Board. 
Yvonne Thomas has been an active volunteer on the Travel Committee of the Evergreen Seniors Community Centre for the past few years. She joined the Board of Rexdale Women's Centre in 1997 and was Chairperson of the Board from 1998 to 2009 and an ex officio member from 2009 to 2010, assisting with the transition of the new Chair. She was a member/chair of several committees, including the Joint Health and Safety Committee during the 20 years that she worked at a major Pharmaceutical company in Mississauga. Yvonne feels strongly about, and, remains committed to giving back to her community whenever she can.
Ex Officio:
Brooke Gibbons   Secretary for GWSA Board of Directors) is the current Recreation Program Coordinator for Seniors Services with the City of Guelph. Much of her attention has been put into developing new and exciting recreational programs for the senior community. Brooke forward to working alongside all GWSA members to support their initiatives and goals. (Ex officio, non voting director)
Adam Rutherford (City Representative) is the City of Guelph's Program Manager of Programming and Community Development. For more than 20 years Adam has been working with, advocating for and developing programs in partnership community members of all ages. Adam's work has focused on engagement, innovative program development and the needs of marginalized and underserved populations. Middle-aged skateboarder, lover of film and music, a big thinker that prefers intimate environments and always on the run. If his door's open, come in and say hi! Adam is the City of Guelph's representative on the GWSA Board of Directors. (Ex officio voting director)
EXECUTIVE DIRECTOR
Linda Jeffrey has an established 27-year track record in public service, both at the municipal and provincial levels.  She served as a City Councillor in Brampton for 12 years and later she was elected to the Ontario Legislative Assembly for eleven years.
While at the province Linda served as Ontario's Minister Responsible for Seniors, Minister of Natural Resources, Minister of Labour, Minister of Municipal Affairs and Housing, as well as Chair of Cabinet for the Province of Ontario. She returned to her municipal roots in 2014 and served as Mayor of Brampton until 2018, also serving as Chairperson for the Large Urban Mayors Caucus of Ontario, and as a member of the Peel Police Services Board.  
Linda joined Jake's House to help launch their Community Living Initiative in 2019 as their Director of Housing.   During the pandemic she worked with a variety of stakeholders to develop creative and innovative solutions to explore how to grow supportive, long-term inclusive living solutions for individuals with Autism Spectrum Disorder.
In July 2021 Linda was appointed for two years as a new member of the National Seniors Council for the Government of Canada. This Council advises the Government through the Ministers of Seniors and the Minister of Health on matters related to the well-being, health and quality of life of seniors, including opportunities and challenges arising from a rapidly growing and increasingly diverse aging population. After relocating to this area, she expressed interest in our organization and was appointed Executive Director of the GWSA starting in January, 2022.